Campionato Italiano ACI Kart
Dopo aver vinto la Coppa delle Nazioni Children di salto ostacoli cavalli con i suoi compagni di squadra in Austria lo scorso fine settimana, l'attenzione di Lorenzo si è spostata nuovamente sul kart mentre si dirigeva a Muro Leccese per il secondo round del campionato italiano, disputato sul Circuito Internazionale La Conca. La competizione sarebbe stata con 24 piloti che gareggiavano nella categoria X30 Junior.
Nelle quattro sessioni di prove libere del venerdì, Lorenzo ha fissato costantemente i tempi nella top 10 con il migliore di 48,0, ma è scivolato in un 14 ° posto non aspettato nella sessione ufficiale della giornata.
Dal suo posto di partenza in griglia, Lorenzo ha recuperato ben otto posizioni terminando con un eccellente sesto posto, che sarebbe stata la sua posizione di partenza per la seconda manche. Dopo aver perso terreno all'inizio della seconda manche, Lorenzo si è trovato in una lotta serrata per rientrare nella top ten concludendo al settimo posto. Complessivamente, dopo entrambe le manche, ha concluso la giornata in V posizione e ha avuto motivo di ottimismo per le gare di domenica.
Una domenica mattina calda e soleggiata ha visto in partenza i concorrenti per le finali. Lorenzo parte 5 ° sulla griglia di partenza dietro al poleman Francesco Pulito, ma perde un paio di posizioni nei primi giri, prima che una bandiera gialla rallentasse la gara al terzo giro. Riprende alla fine del 5 ° giro con Lorenzo che insegue Luca Graziani per la settima posizione. Il distacco era di appena 0,5 secondi e entrambi stavano impostando i loro tempi di settore più veloci. Al 10 ° giro Lorenzo era a soli 0,05 secondi. Lo passa al giro successivo e si avvicina a Hayden Lupifieri . A due giri dalla fine Lorenzo è sulla coda di Lupifieri e lotta per conquistare il 5 ° posto, tenta il sorpasso e finisce a soli 0,09s.
Ha avuto l'opportunità di mettere a frutto quell'esperienza nella seconda gara della giornata. Partendo terzo sulla griglia, dietro ai suoi due compagni di squadra del team Driver Racing Kart, Lorenzo si è concentrato su una buona partenza e usciva secondo dopo il primo giro. Purtroppo però a causa di una precedente falsa partenza, un tamponamento gli danneggiava il musetto e si trovava presto sotto pressione poiché il danno del suo kart gli causava difficoltà di manovra e non riusciva a mantenere la posizione. Dopo i primi giri finiva quindi al settimo posto e ha trascorso il resto della gara cercando di recuperare terreno perso. Mentre i due leader si staccavano dal gruppo, c'è stata una dura battaglia tra gli altri piloti, e Lorenzo è stato in grado di chiudere e recuperare una posizione per finire sesto alla bandiera a scacchi. Sfortunatamente, a causa del danno è stato penalizzato e il risultato finale lo ha visto retrocedere in 12 ° posizione.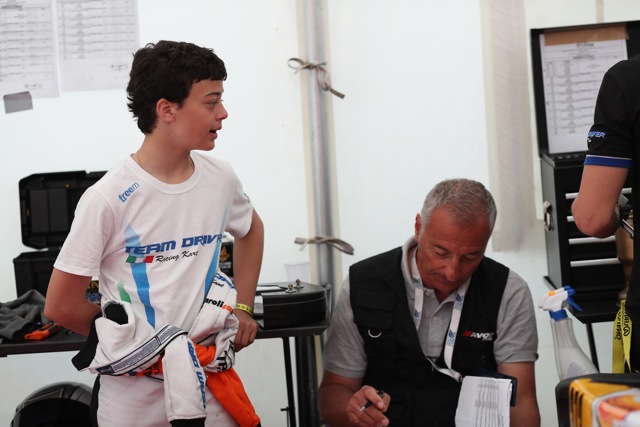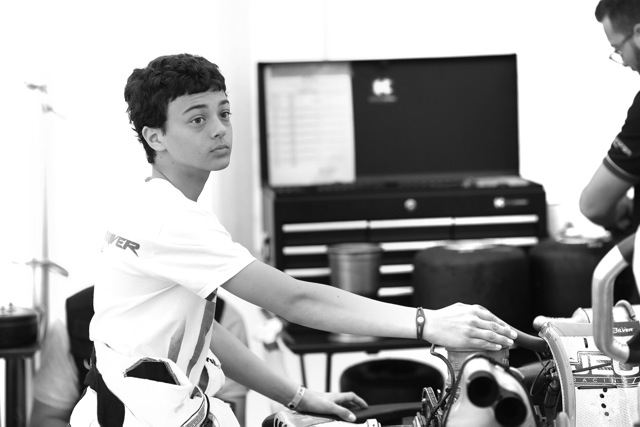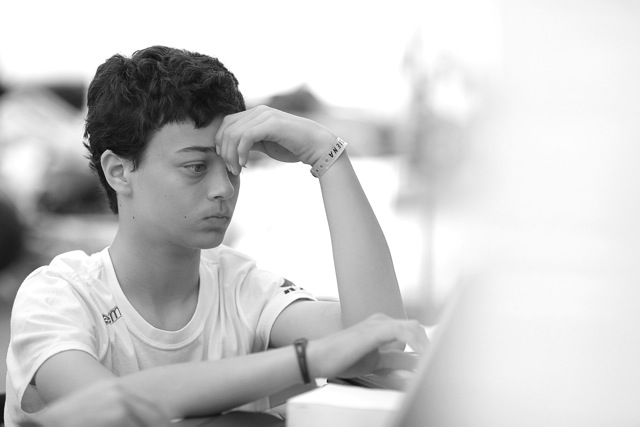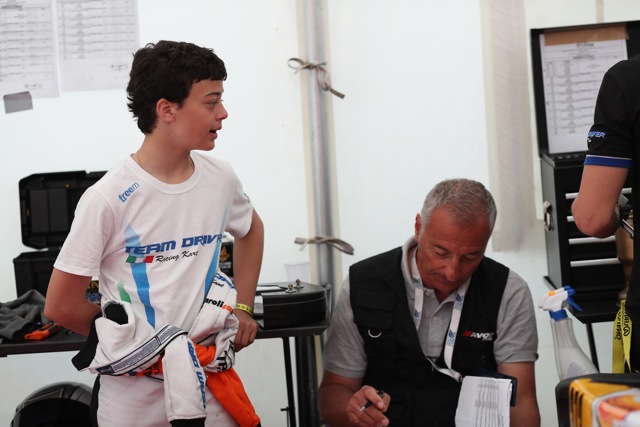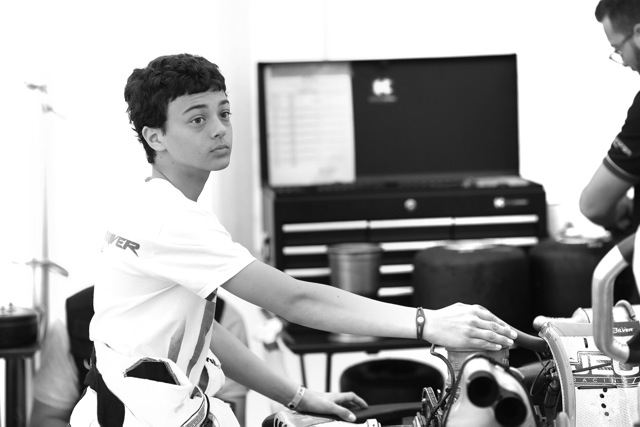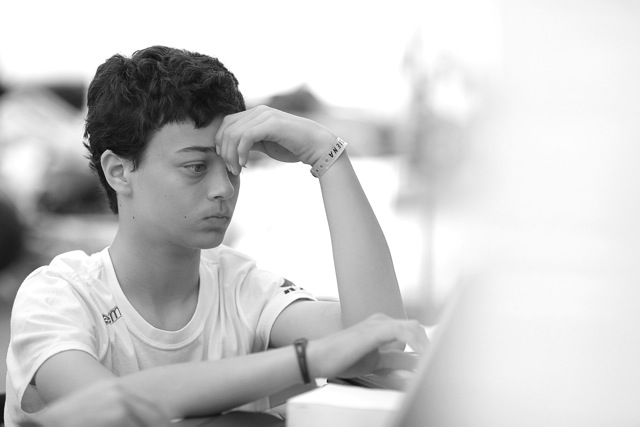 After winning the equestrian Children's Cup of Nations with his team mates in Austria last weekend, Lorenzo's attention turned to karting once again as he headed to Muro Leccese for round two of the Italian championship, held at the La Conca International Circuit. Competition was going to be tough with a 24 drivers competing in the X30 Junior category.
In the four free practice sessions on Friday Lorenzo consistently set times in the top 10 with a best of 48.0s, but slipped to a disappointing 14th in the final official session of the day.
From his grid position Lorenzo made up an impressive eight places during heat one finishing in an excellent 6th place, which would be his starting position for heat two. After losing some ground at the start of the second heat Lorenzo found himself in a close fight to get back into the top ten finishing in 7th position. Overall, after both heats, Lorenzo ended the day in 5th position and had reason for optimism going into Sunday's races.
A warm and sunny Sunday morning saw the X30 Junior field line up for the 16 lap race one. Lorenzo was 5th on the starting grid behind pole man Francesco Pulito but lost a couple of places in the early laps before a yellow flag slowed the field on lap three. Racing resumed at the end of lap 5 with Lorenzo chasing Luca Graziani for 7th position. The gap was just 0.5s and both were setting their fastest sector times but by lap 10 Lorenzo was just 0.05s behind. He made the pass on the next lap and was now closing in on Hayden Lupifieri for 6th. With two laps to go the order had changed; Lorenzo was still on the tail of Lupifieri but they were now fighting for 5th. This is how it finished with just 0.09s separating them at the chequered flag. A strong performance by Lorenzo who was gaining valuable experience with every lap.
He had the opportunity to put that experience to good use in the second race of the day. Starting third on the grid, behind his two Team Driver Racing Kart teammates, Lorenzo's focus was on making a good start and at least maintaining his position heading into the early laps. That was exactly what he did after the initial false race start. Moving up to 2nd at the first corner, he quickly found himself under pressure from those behind as damage to the nose of his kart caused handling difficulties and Lorenzo was unable to maintain his position. In the early laps he found himself dropping down the order to 7th position and spent the rest of the race trying to make up lost ground. As the two leaders pulled away from the pack there was a tough battle among the following drivers, and Lorenzo was able to close in and regain a position to finish sixth at the chequered flag. Unfortunately, due to the damage he was penalised and the final result saw him relegated to 12th position